The power tools mod creates several new minecraft machines, including drills and bores capable of creating big holes in the fraction of the time you can do so with your shoveling square hands. There's no auger as yet, but that's because there's not much call for post holes in minecraft.
Tools include:
The Shaft Drill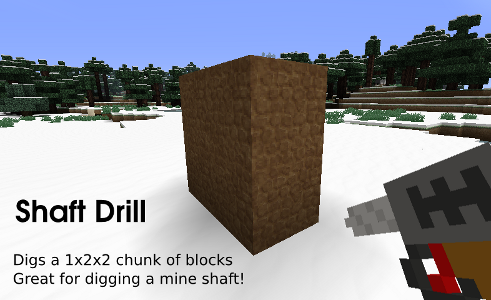 A drill which will create a 1x2x2 shaft, perfect for establishing new mines with a rapid quickness.

Wide Bore Drill

With a 3x3x1 bit, the wide bore drill is what you need when you're making yourself a tunnel.
Oil Your Machines
Now these aren't your usual cheat tools designed to make blocks disappear without any input at all. These are machines and they need oil to run. Fortunately, the mod also includes a small oil refinery. Place it next to a source of running water and your oil refinery will take the fossil fuel of coal and turn it into sweet juicy oil to power your digging machines.
Mod Compatibility
The Power Tools mods is compatible with the Forge API. It is suitable for use in single player and multiplayer servers that don't kick you for having mods installed.
Minecraft Power Tools Mod Download Link
Related Posts